Dedicated Teachers & Staff
Our team combines extensive industry and professional practice experience with strong educational credentials.  We have people across a range of disciplines, skills, abilities and backgrounds. It is a multicultural Montessori environment.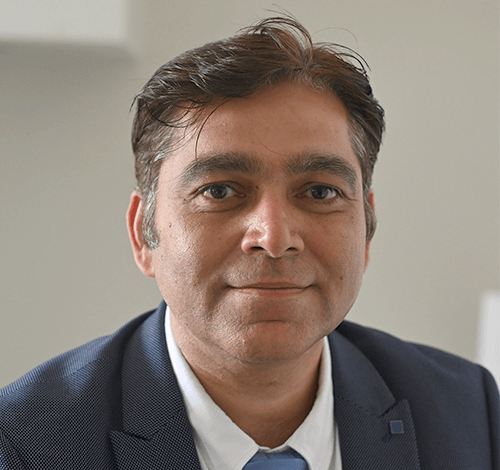 Centre Manager
Aseem is passionate about providing quality Montessori programs for the Hoppers Crossing Montessori Centre. He manages the day to day operations of the Centre.
Aseem has completed the Association Montessori Internationale (AMI) Diploma. Aseem has over 18 years of experience in Information Technology and has gained significant experience managing teams in the delivery of major system development projects.
He has done his Bachelor of Engineering and Post-Graduation in Management, Certificate of Global Business Leadership from U21 Global and Harvard Business School Publishing; Managerial Excellence Program from Duke University.
He has also completed AMI Children House Assistant Course for 3 to 6 age group, Birth to 3 years Course and Diploma in Montessori Methods of Education, Montessori Teaching Training Program.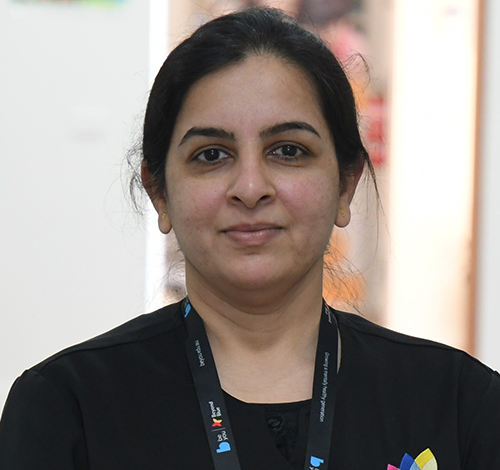 Assistant Director
My name is Poonam and I hold a Bachelor's in science and a Diploma in Montessori Teaching.
The person I am today has been influenced by my life and work experiences mainly in India, Singapore, and Australia.
My passion for Early Childhood Teaching is so strong that I cannot see myself working anywhere else. I just love learning about children and being around them.
I believe that children have so much to teach us and that if their interest is promoted and build upon, that can make a big difference in their future learning.
Being the leader, I believe that every educator has something special to bring to children's learning and that they should be given the opportunity and ability to do so in an environment that promotes understanding and teamwork.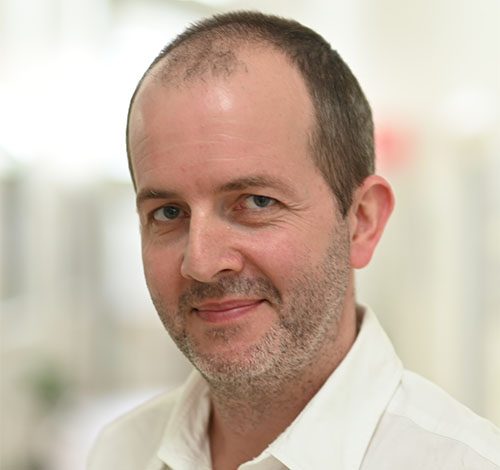 Educational Director
Alex brings about two decades of experience working in a Montessori Environment.
He is a Strategic-Thinker and is a Teacher, Mentor, Educator, and an Advocate. He has done his Bachelor of Teaching Early Childhood & is a registered VIT teacher.
He has also completed the Association of Montessori Internationale (AMI) Montessori Diploma several years ago.
He is passionate about the Montessori and child development program and fascinated by how children learn.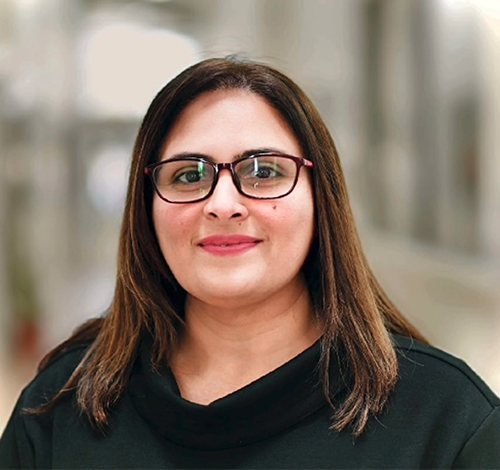 Administration Manager
Dr.Munis Kashmeeri has been in the Early Childhood Education Industry for over 11 years.
Her studies include completion of, PhD in Education, Masters in Professional Education, Advanced Diploma in Community Sector Management, Diploma in Early Childhood , M.Ed. , B.Ed.
Her personal and professional philosophy is to maintain a quality standard environment for all children and Staff.
She is committed to promoting children's basic needs and values through a nourished environment as she believes that values are very special power in the universe.
As environment plays a major role in the success of an early childhood program, it should enhance the children's interests in all developmental domains.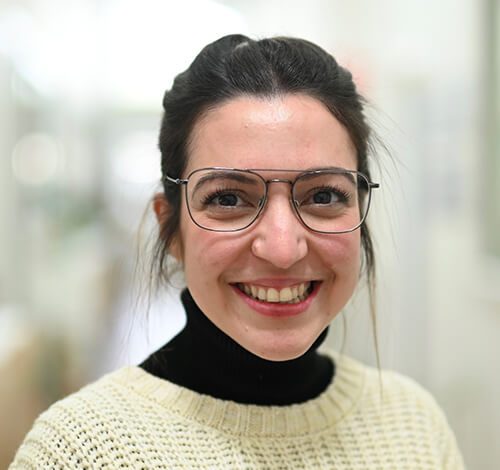 Administration Manager
An early childhood educator with seven and a half years of experience working in the childcare sector. I hold a Diploma in Early Childhood Education and Care, along with a Certificate in Community Services and Diploma in Travel, Tourism, and Business Management.
I am currently in my fourth and final year pursuing my Bachelor of Early Childhood Education. Where working with children has always been a passion as they display the purest forms of human emotions in the world of their own.
I've always believed it takes a village to raise a child, where we as a community work together to ensure the growth and safety of our future generation. As children's understanding of themselves is developed through relationships in the context of their families and the wider community. These relationships engage children to define who they are and what they can become. In a village, a child feels safe.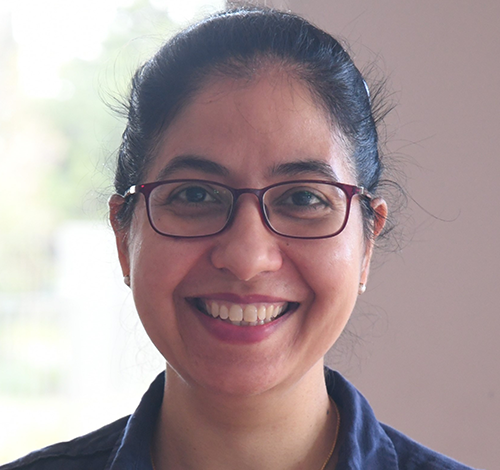 Kindergarten Teacher (VIT) & ELLA Leader (German Language)
Hi! My name is Deepika, I hold a Diploma in Early Childhood Education and Care & have done BA (Hons). I am currently studying towards my Graduate Diploma in Early Childhood Education from VU.
Having had the opportunity to live in four different countries, Kenya, India, Germany and Australia, I greatly value the importance of Cultural Diversity. My passion for working with children started when I was working as a volunteer in Pune, in an orphanage.
I truly believe that every child is a unique miracle, with an absorbent mind. It brings me immense joy to be a positive influence in a child's journey, ready to explore the vast world they live in.
I enjoy creating a positive environment filled with creativity, and approach teaching with a strategy that helps to shape a child's linguistic abilities, language and multicultural awareness, while creating a beautiful and respectful bond with the children.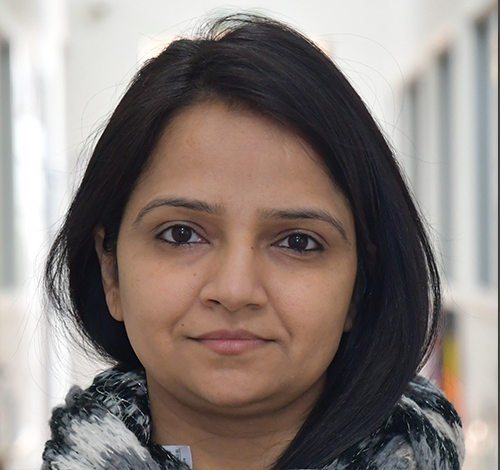 Kindergarten Teacher (VIT)
I am an Early Childhood Teacher with over 4 years of working experience in inclusive and play-based settings.
I have a Bachelor of Education, Graduate Diploma in Early Childhood Teaching, and a Master of Education. I am a mom to two loving children.
Children come with their curious minds and I want their experience of Kindergarten to be a positive and memorable one.
I believe in providing a safe and nurturing environment for them.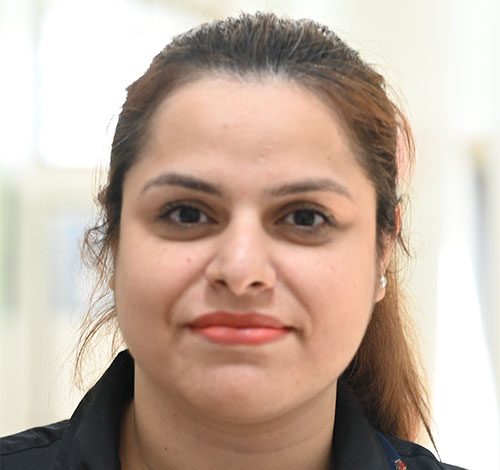 Kindergarten Teacher (VIT)
Hi! I am Iqra Sadiq. My academic qualifications include Bachelor's in Microbiology , another Bachelor's in Early Childhood Care and education from University of Swinburne, and Certificate 4 in Training and assessment.
My passion for teaching young children made me change my profession from Microbiology to Early Childhood education. I believe that every child can accelerate in his learning with a right start and a right environment, be it academics, arts, sports.
Being a sports person myself, I take pleasure and pride in organizing and participating in outdoor activities. My love for reading books keep me updated with my professional skills and I look forward to a new and exciting experience every day with these children.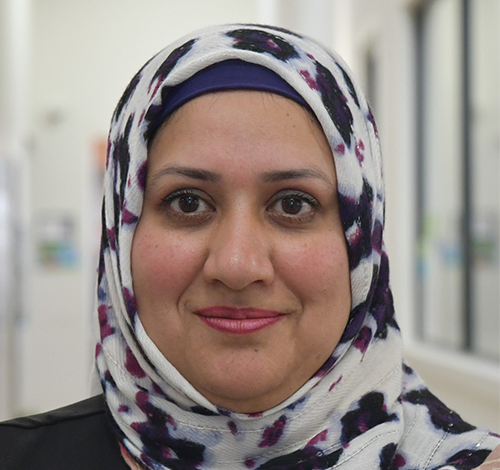 Room Leader & Sustainability Officer
Hello, I am Safina and I hold a Bachelor in Education, a Diploma in Early Childhood, a Diploma in Montessori Education as well as a Certificate III in Commercial Cookery. I also got a level IV certification in the Green Steps Sustainability Program.
I am at the moment upskilling myself with a certificate IV in Education and Support. Being a mother of three, I enjoy educating my children, sharing my knowledge with them so, I decided to extend the same in an early childhood setting.
I have been at Hoppers Crossing Montessori Centre since day one. I believe children are like nature's true gold that needs responsible nurturing hands, supervision, guidance to make them feel secure and confident when stepping out in the real world.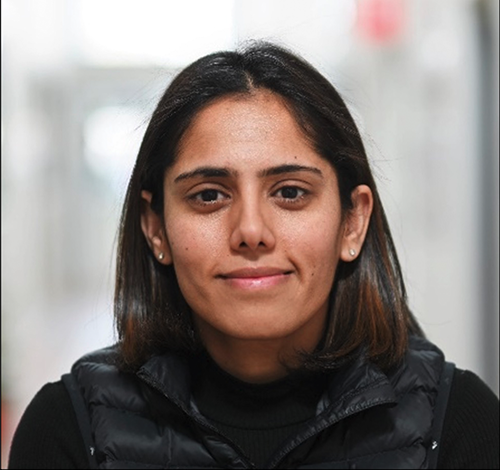 Room Leader
My name is Rosepreet and I am an adventurous person who happens to love books. I have done my Master's in Science from overseas and currently enrolled in Graduation in early Childhood Education.
I strongly believe that children are curious by nature and it is every educators responsibility to ignite that curiosity and love for learning. Being a person from the science background, contribute by designing my intentional teaching keeping children's curiosity alive and by giving them opportunities for exploration and experimentation.
My love for children brought me in this profession and being a mother of a young boy, I understand that children need love and affection more than anything else in the world.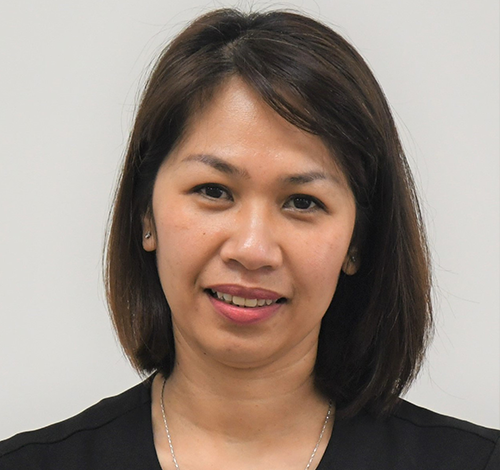 Educator
Hi, my name is Truc. I am originally from Vietnam but I have been living in Australia for twenty years now. I have been working in the Early Childhood Sector for four years.
I have always been a child at heart and I wanted to be surrounded by them. I believe that every child is different and unique in the way they grow, learn, and develop. I believe in building on children's motivation and actively engaging in their learning.
Through my experience in Early Childhood teaching, I had the opportunity to work with children with disabilities and I find it so rewarding to see and celebrate their achievements.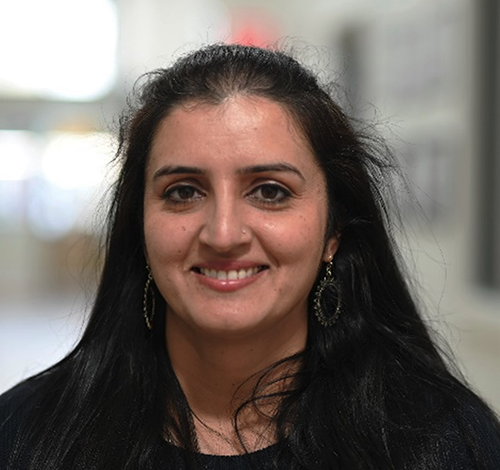 Educator
My name is Rajdeep and I hold a diploma in Early Childhood Education and Care. I hold a bachelor's in education from overseas and it is my passion for working with children that has landed me in this beautiful profession.
I feel the most important thing that a child looks from an adult is the warmth and trust and I feel I have these feelings along with the element of care and education.
I love doing Yoga and exercise with children in the morning and love to make them aware about healthy eating habits.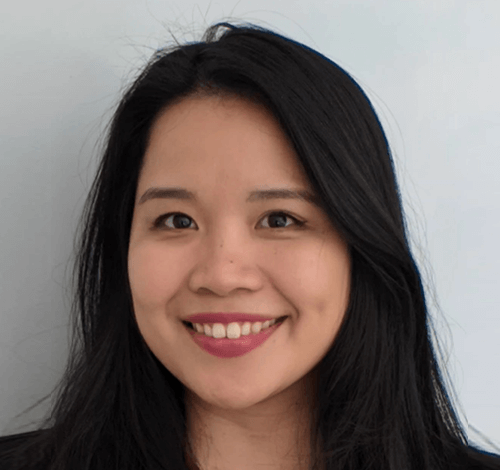 Educator
Hi! My name is Kim and I come from Philippines. I am an artist at heart and want to share some of my skills and joys with children.
I love playing keyboard and guitar and singing for and with children comes naturally to mI always believed in the positivity and benefits of music and dance in an early childhood setting and that is why I always encourage children to participate in song and dance activity.
I believe in partnership with families and understanding of different cultures to build a strong community.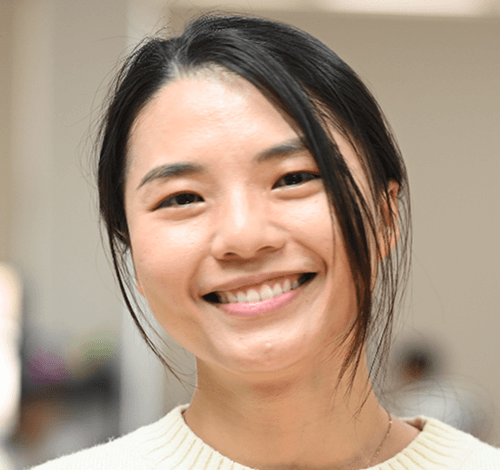 Educator
My name is Kay and I am an enthusiastic and creative early childhood educator. I am a graduate in art design and hold a diploma in Early Childhood Education and Care.
I believe in building meaningful relationships with children and contribute to high quality, and inclusive educational program.
My love for art and skills in graphics are my strengths in connecting with young minds.
I love to meditate, and my hobbies include Yoga, ballet and photography. I am blessed to be a part of this organisation and these childrens' lives.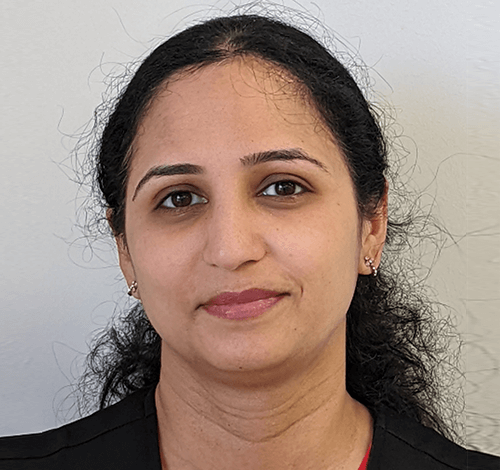 Educator
I am Ketki and I have done by graduation in Microbiology and Pharmaceutical Chemistry. I currently hold Diploma in Early Childhood Education and Care and another Diploma in school age children.
The change in my professional line clearly shows my love for children. I perceive every child as a complete being holding different beliefs, interests, abilities that must be kept in mind while we start this journey called education.
My priorities in life are a safe and healthy environment for every child so that they can learn and grow to the best of their abilities.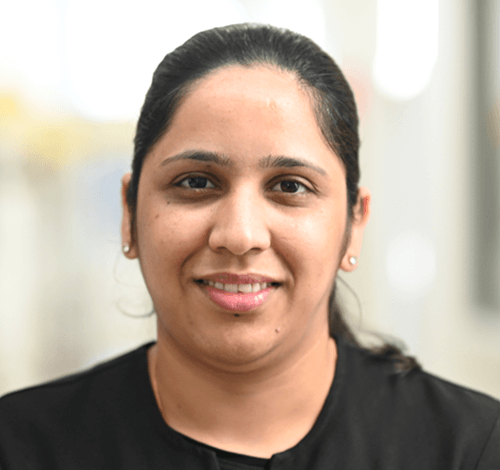 Educator
Hello! My name is Manpreet and my qualifications are Diploma in early Childhood education. I was a practicing nurse before coming in this profession and its my love for children that has pull ed me here.
I have an experience of working with children for over 3 years and this has been the most gratifying and fruitful experience of my life.
I love being a part of their lives and have developed a deeper sense of respect and attachment to these bundles of joy. The love I receive from them is unconditional and I feel blessed to be a part of this team.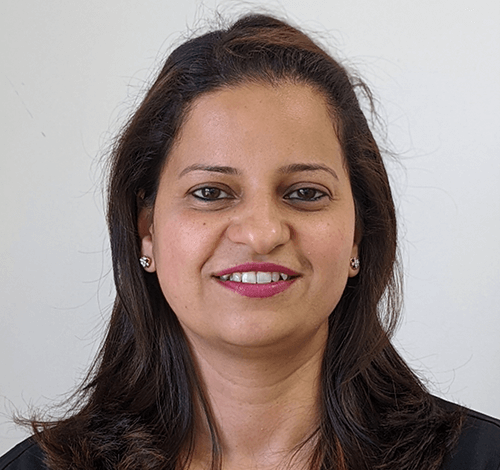 Educator
Hi! I am Manmeet and I have done my Master's in Education from India. I currently hold Diploma in Early Childhood Care and Education and being with children is one of the best parts of my life.
I am known for my cooking and organizational skills in the centre. Being a mother of two beautiful children, I know the journey of motherhood and can relate to all the motherly emotions. This helps me relate to the families and to the children.
I believe that children should be involved in everything we do to give them the best start in their practical and sensorial education.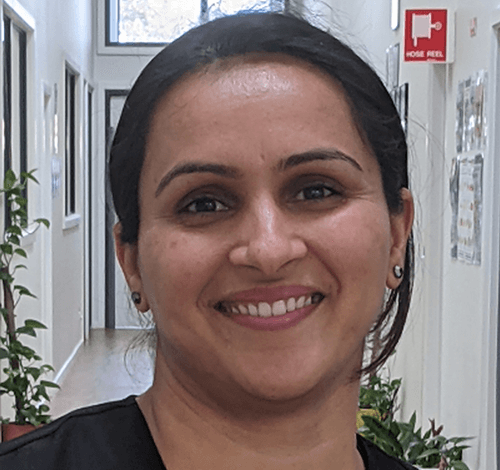 Educator
Hi! I am Prabhjot. A qualified nurse by profession, I have spent several years in Paediatrics loving and understanding the behaviour and responses of children.
My love for children and my experiences with them is what brings me to early childhood education. Being a spiritual person, I believe in children's energies and their immense capabilities to achieve anything they want.
I am humbled to be a part of their lives and blessed for the responsibility of guiding them in their journey.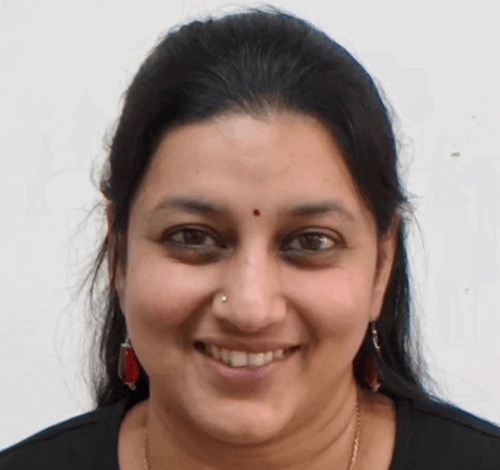 Educator
I am Divya, and I want to work with children for as long as I can in my life. I have Diploma in Montessori Education and I have worked for an international school in Singapore for 7 years.
My other accolades in education are Bachelor's in Commerce, Diploma in Early Childhood Edu cation and Care, Cambridge International Diploma in Teaching, Certificate in Education Support from Monash University.
My years in teaching have taught me to be a humble person as I believe we learn more from children than what children learn from us. I am fond of gardening and follow the sustainable practices with a vision and a wish for a better and greener future.