Learning Maths at home in a Montessori way 'Numbers and Beans'
Here comes another activity that can be played at home to practice our children's maths skills. Most importantly, it helps our children develop and improve their concentration.
Please do not feel pressured that you have to do this at home, it is just a recommendation for your information when you feel like doing something relating to maths with our children.
Materials needed
1. A marker for writing
2. Small pieces of paper to write numbers on
3. Any kind of beans
4. Some paper towel or clean cloth (longer than 1 meter)
5. An empty space (on the table or floor)
Steps
1. Write numerals from 1 to 10 on paper, one on 1 piece of paper. Our children can write them or get help from siblings or Parents.
2. Go to wash hands thoroughly.
3. Horizontally lay the paper on the table or floor in order and leave some space in between.
4. Place 1 bean right under the paper with number 1 on it (please see the layout of my picture as below).
5. Place 2 beans right under the paper with number 2 on it (please follow the layout of my picture)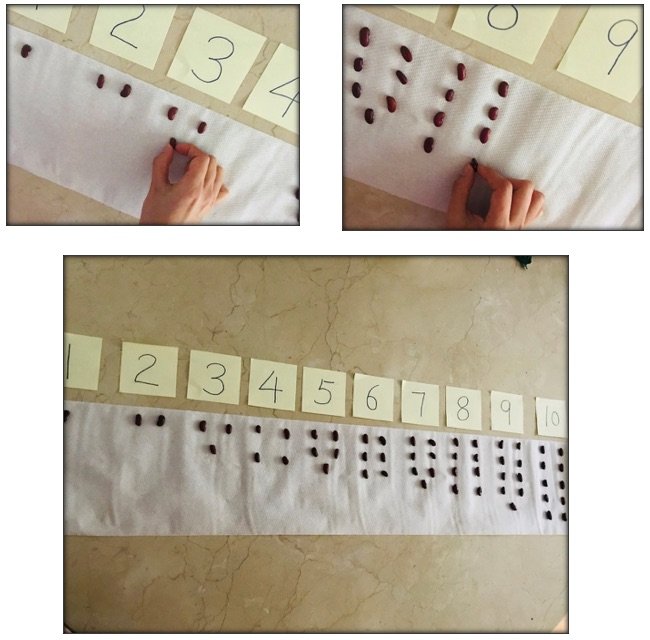 Such a layout is designed to allow children to understand the concept of odd and even numbers (when we run a finger vertically in between two beans, if the finger is stopped by a bean, the number is an odd number.
If the finger goes through, the number is an even number), which we will be teaching our children later in the classroom.
The layout is also preparing our children's skip counting in the future.
For children who are willing to keep going and to challenge big numbers, the below is the layout for numbers over 10.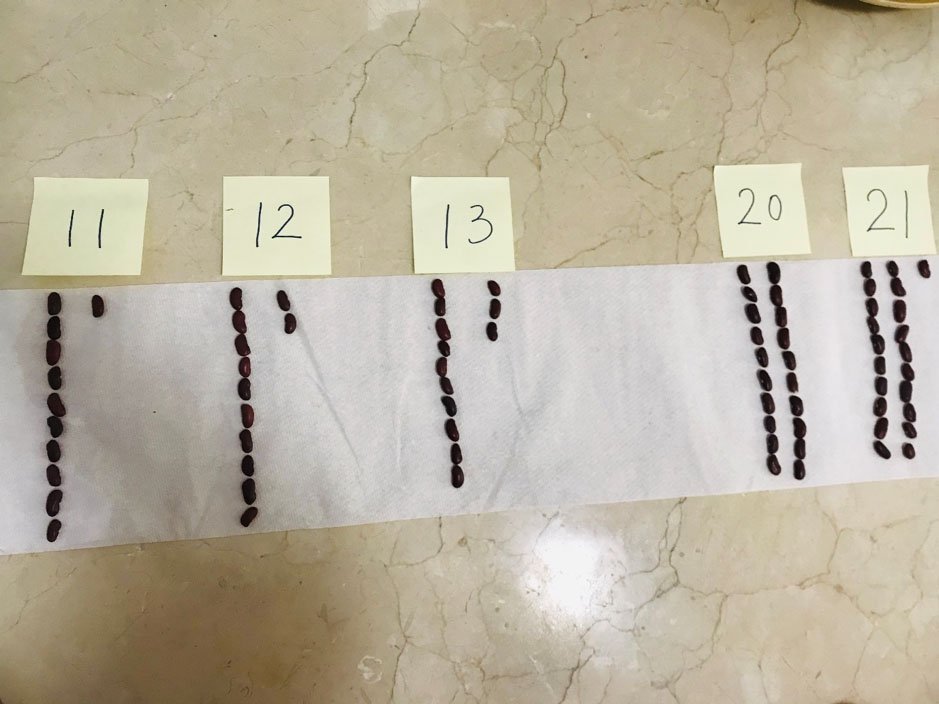 After completing the layout, please help draw our children's attention on the layout by saying "11 is a 10 with 1 more, 12 is a 10 with 2 more, 13 is a 10 with 3 more" – it will allow them to understand addition when we learn it with them later on.
In regard to numbers over 20, you may like to draw our children's attention by saying "20 is actually two tens together, 21 is two tens with 1 more…." In this way, we prepare them to understand multiplication and division.
In the end, don't forget to put all the beans back to where they are stored.
Have fun and share your photos with us if possible, let's see what kind of beans you use (I used red beans :))

Montessori Program at Hoppers Crossing
At Hoppers Crossing Montessori Centre, we believe every child deserves the highest quality program and our goal is to help in achieving this.
To know more about our program, schedule your centre tour today, or give us a call at (03) 8742 2349. We look forward to meeting you!
We are located at 483 Sayers Road, Hoppers Crossing 3029.
Hoppers Crossing Montessori Centre serves the local communities in Tarneit, Truganina, Werribee, Werribee South, Williams Landing & Wyndham Vale.