The Role of Outdoor Play in Enhancing Child Development within Childcare Settings
Playing outside allows children to have adventures and explore the natural environment.
Children can build self-confidence, play games, express themselves, and test their physical limits when playing outside.
Of course, outdoor play can also mean more mess – but more mess often means more fun!
Your child typically will have more freedom and space when playing outside for activities such as throwing, jumping, kicking, and running. These types of activities are great for your child's physical development and fitness.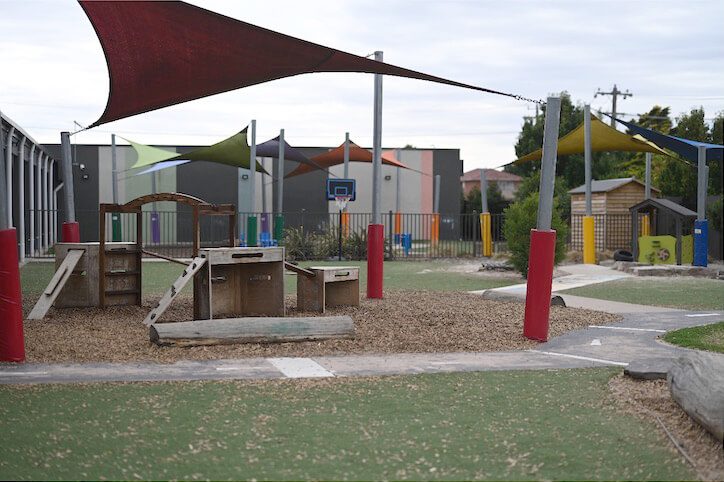 Being outdoors and focusing on objects in the distance can help to relax children's eye muscles, which can help to lower your child's chances of developing short-sightedness.
Safe play in the sun with small amounts of sunlight exposure can also help to boost your child's vitamin D levels.
Outdoor play can also benefit your child's wellbeing and mental health, as playing outside in a natural environment can help children feel calm and relaxed.
The Positive Impact of Outdoor Play on Children's Development and Health
Outdoor play offers a stimulating and interactive environment for children to learn and explore.
It provides children with opportunities to develop essential skills and abilities, such as hand-eye coordination, balance, and gross motor skills.
Outdoor play promotes physical activity, which is crucial for children's health and well-being.
It helps children develop critical thinking, problem-solving, and decision-making skills.
Outdoor play offers children a chance to learn about their environment, natural world, and science concepts.
It encourages creativity and imagination, as children can use their surroundings as a canvas for artistic expression and imaginative play.
Outdoor play helps children develop social and emotional skills, such as cooperation, communication, and empathy.
Incorporating outdoor play into childcare programs can support children's holistic development and help them reach their full potential.
Some of the outdoor ideas we have implemented at our centre include:
Maintaining the Garden

Gardening can provide an excellent opportunity for children to learn, equipping them with a range of beneficial life skills, such as:
Watering plants
Growing Vegetables
Weeding
Decomposing
Worm Farm
Sandpit Area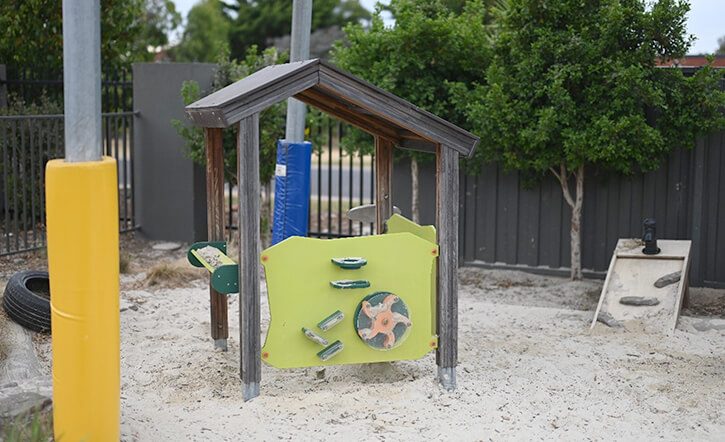 Children are often creative, and playing in the sandpit is no exception. Sandpit activities include building, digging, scooping, pouring, raking, shaping, and more! Playing with sand offers a tactile experience that stimulates children's senses and encourages them to explore their surroundings.
A sandpit area also promotes socialization and teamwork, as children can work together to build structures or simply enjoy playing together.
Water Play Experiences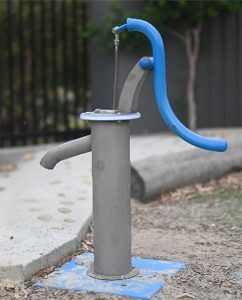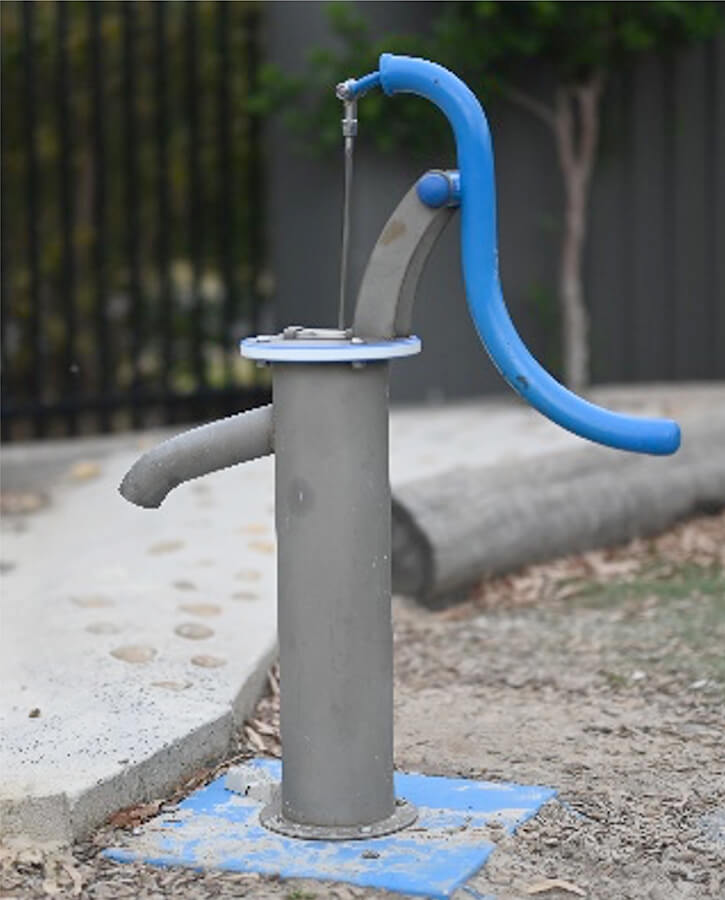 Water play is educational and great fun for children, offering numerous benefits for their emotional, social, physical, and early literacy and numeracy development.
For example, water play can help to develop hand-eye coordination and motor skills, increase focus and concentration, and introduce science and maths concepts.
Water play ideas and equipment at our centre include:
Handpump
Filling buckets with water and watering the plants
River bed table
Sport/Physical Activities/Play
Sports and physical activities aren't just a great way to keep children's bodies healthy; they also have psychological benefits and teach essential life skills.
Organised sport has a range of psychological and social benefits for children – even more than physical activity during play.
Sport teaches children to cooperate, be less selfish, and listen to other children. It also helps them to make new friends, promotes healthy growth of bones, muscles, ligaments and tendons, and offers mental health benefits, such as increased confidence.
At our centre, we offer an extensive selection of sports and fitness programs that cater to different interests and skill levels.
These activities are designed to promote physical well-being and help individuals achieve their fitness goals: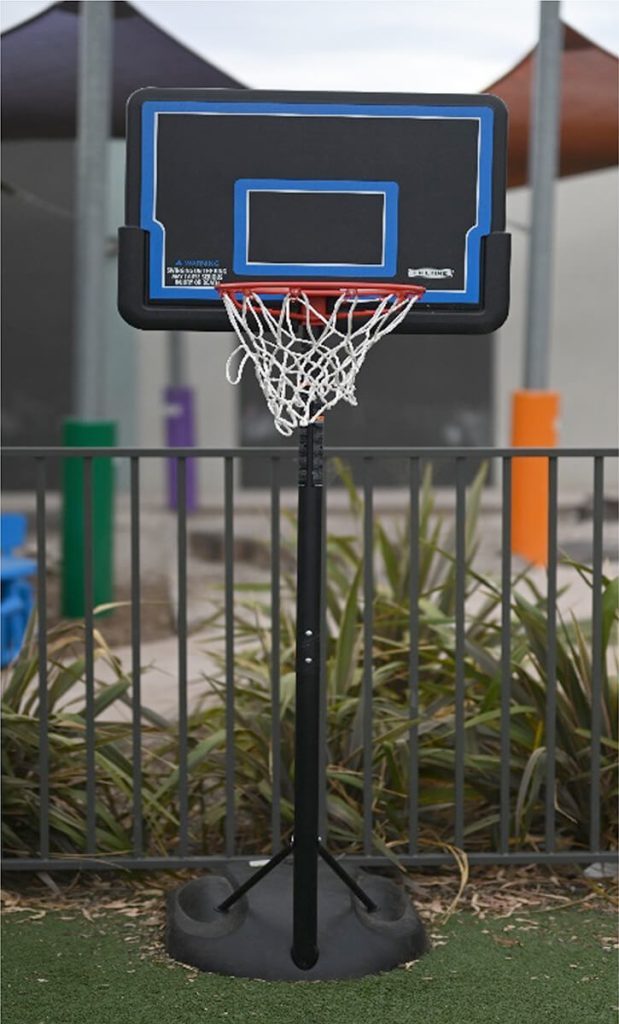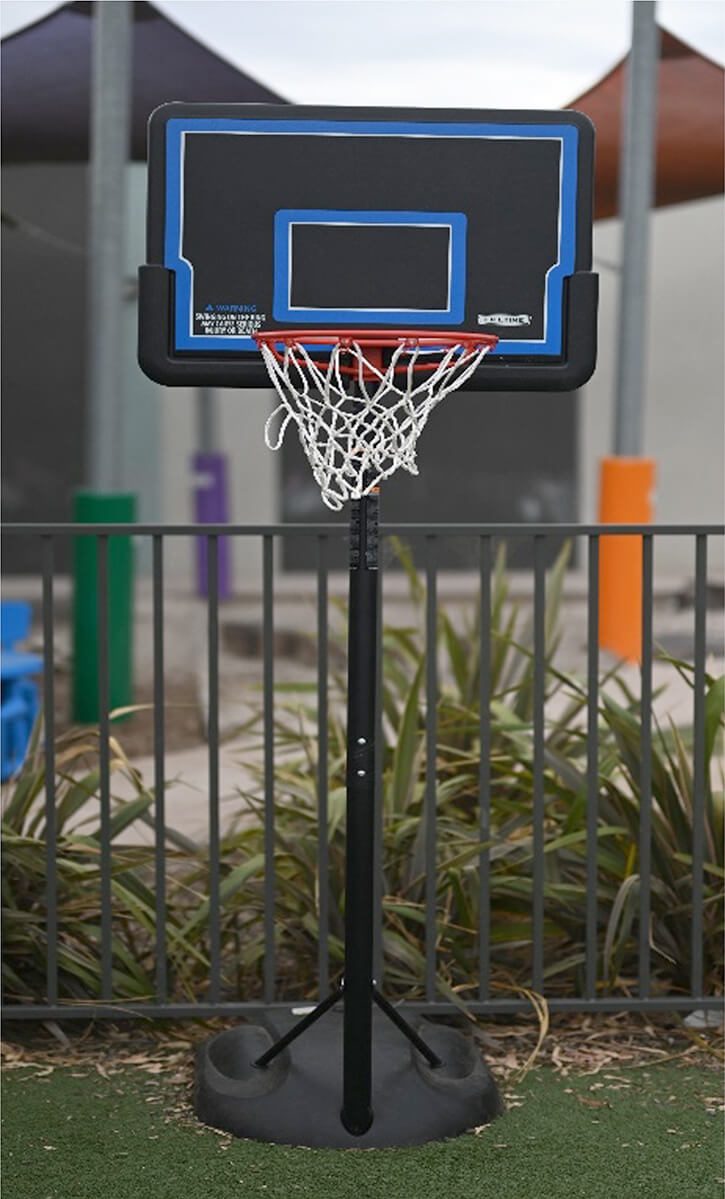 Basketball
Netball
Football
Passing the ball
Kicking the ball
Running around the cones
Outdoor ladder planks
Monkey bars
Music
Drums
Dance
Walking
Running
Jumping
Hide & seek
Picnics
Drama/role model acting
Small outdoor toys/construction
Yoga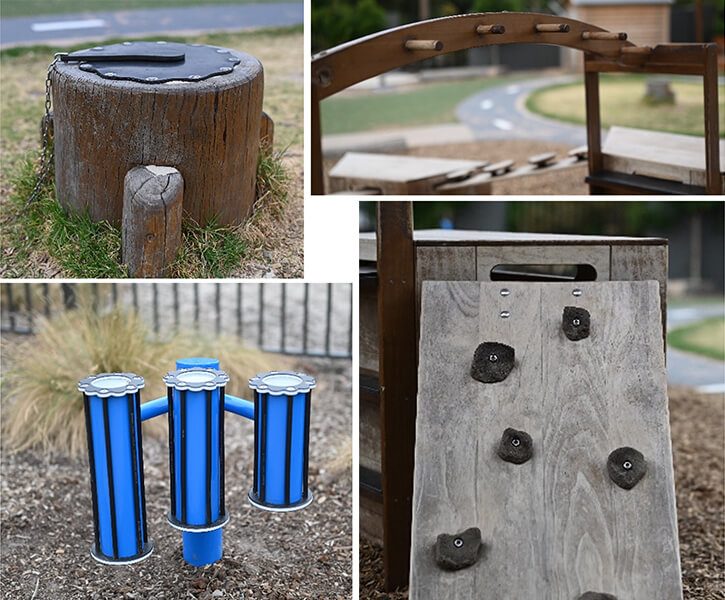 Balancing
Balance is being able to maintain a controlled body position during activities. It can help to build patience, balance the body, and improve coordination.
Activities and equipment at the centre that encourage balancing include:
Step logs
Step stones
Walk on the rocks/stones
Walking on the line
Walking/jumping on the tyres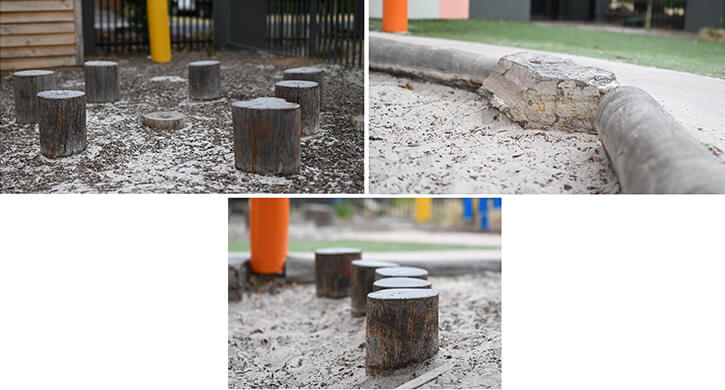 Language
Language is more than just reading and writing. It is an instrument of collective thoughts and involves signs, symbols, body language, and more.
Whether it is spoken language, written words, movements, or gestures, language helps us to understand how another person is thinking or what they understand or believe.
Some ways we introduce language when outdoors at the centre include: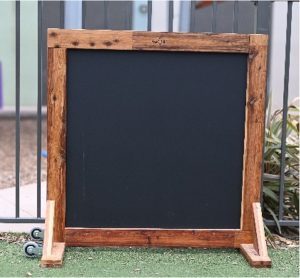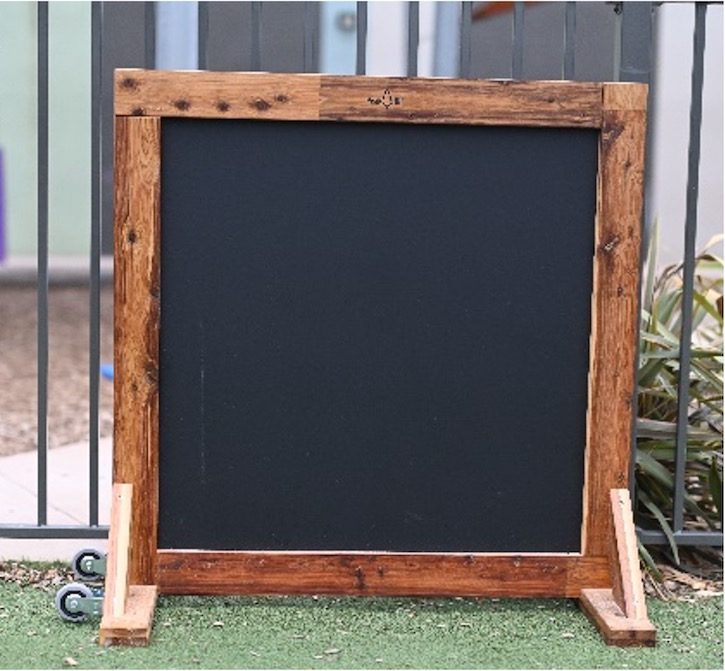 Looking at and naming birds, insects, plants, and leaves
Writing with chalk on the wall or drawing on the pathway or blackboard
Discussing various colours in the outdoor area
Counting (leaves, handfuls of mulch, stones, children, etc.)
Sorting (mulch, leaves, stones)
Grading (small to big or big to small using construction toys, leaves, stones, mulch)
Grading (lighter to darker, using outdoor construction toys, leaves, etc.)
Smelling (flowers, fruits, leaves, vegetable garden, etc.)
Practical Life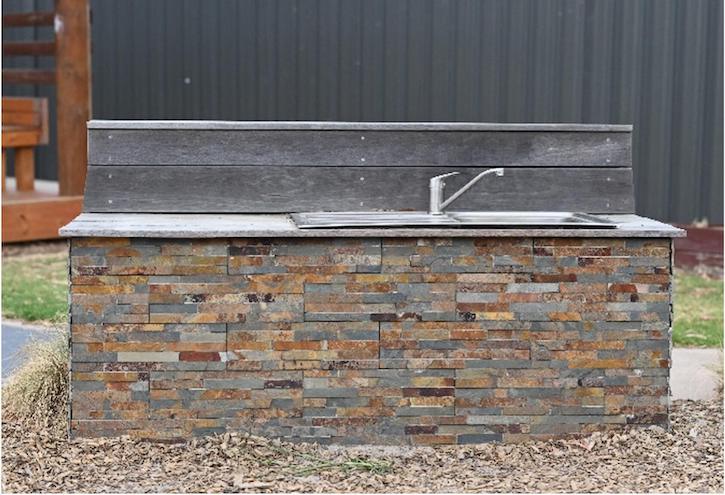 Practical life work can help children develop the emotional and social skills required in more complex academic areas. Practical life exercises can help children to develop a good work ethic, work habits, their inner sense, adaptation, orientation, refinement of movement, self-care, manners, and care for the environment.
Examples of practical life skills we implement at the centre include:
Washing hands
Washing hand towels, etc.
Setting up and packing up outdoor play materials
Washing and cleaning outdoor play equipment
Cleaning and organising the shed
Cleaning shoes and feet after play
Sweeping the pathway
Mud Kitchen
Outdoor painting (wall, paper, floor)
Putting the mulch back in the mulch area
Taking material out of the shed and returning it after playtime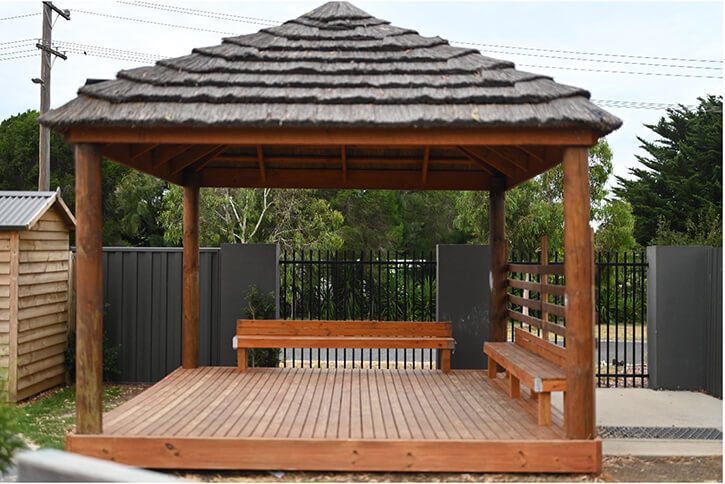 The above are just some examples of how we engage children in outdoor spaces at the centre.
These activities not only help develop essential skills, such as hand-eye coordination, science, mathematical concepts, and motor skills but also foster social and emotional development, concentration, and a sense of order.
By providing these experiences, we aim to support children's holistic development and nurture their love for learning.