Incursion on Aboriginal Culture
"We begin today by acknowledging the people of Kulin nature, the traditional custodians of the land on which we gather today, and pay our respects to their Elders, past and present. We extend that respect to Aboriginal and Torres Strait Islander peoples here today."
An Acknowledgement of country is an opportunity for anyone to show respect for Traditional owners and the continuing connection of Aboriginal and Torres Strait Islander peoples to the country.
We were honoured to have Ms. Hayley Millar Baker, one of the parents at Hoppers Crossing Montessori Centre, do an incursion on aboriginal Culture. It was an excellent learning experience for children and educators.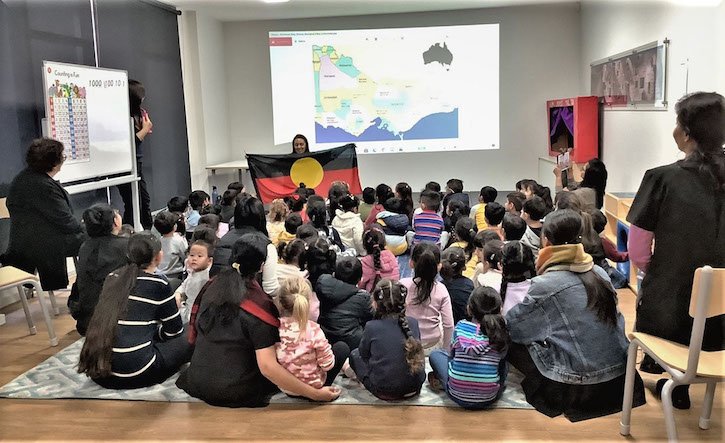 The session was organized in two groups- one for pre-kinder classes and another for kindergarten classes but the contents were the same and adjusted as per the comprehension level of the children.
The session was very well prepared and age-appropriate keeping young minds as the focus. She brought amazing and ethnic, traditional things related to Aboriginal and Torres Strait Islander culture.
The things were used to give sensorial experiences to our children and created a "WOW" factor amongst staff members.
Ms. Hayley started the session by showing the map of Victoria with different areas demarcated and representing different clans/tribes.
The session was focused on Koorie (Aboriginal from Victoria) and Gunditjmara (her clan/tribe) culture.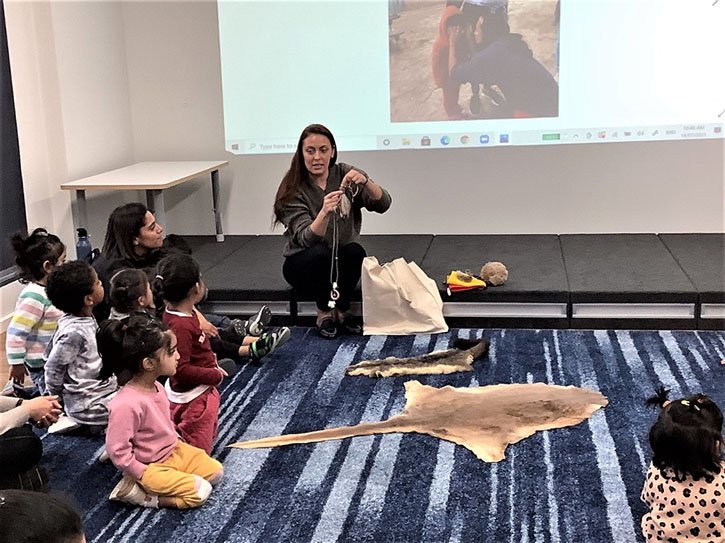 She showed a possum skin and kangaroo skin and spoke about how these two animal skins were useful in many ways for Victorian Aboriginals, as well as what could be made from them, including: blankets, traditional cloaks, costumes for ceremony, and the marngrook.
Marngrook is a Gunditjmara word and means 'game ball'. It is the name of a ball game played by Victorian Aboriginal people, especially children.
In Victoria it was played with a possum skin ball, but in different areas the ball was made from other materials such as kangaroo skin. Ms. Haley also showed jewellery including a hand-woven necklace made from grass and feathers, and an emu feather necklace.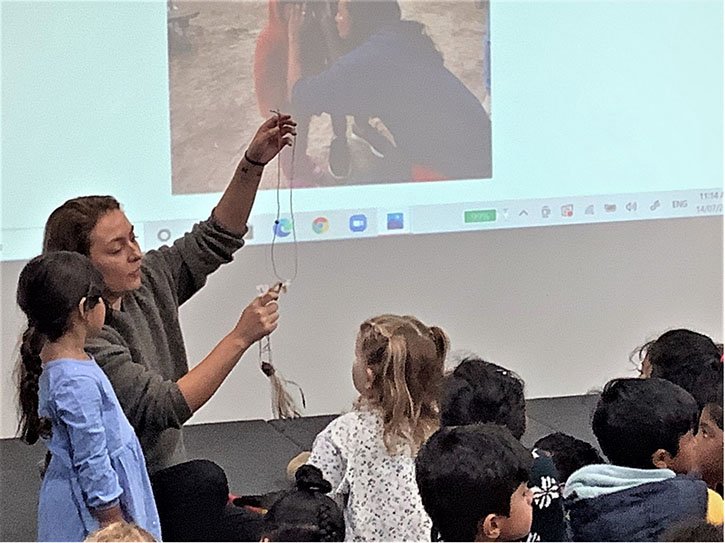 Touch of the skins and feathers was a novel experience for children and maybe for many adults and the whole experience helped us imagine the culture that is Centuries old.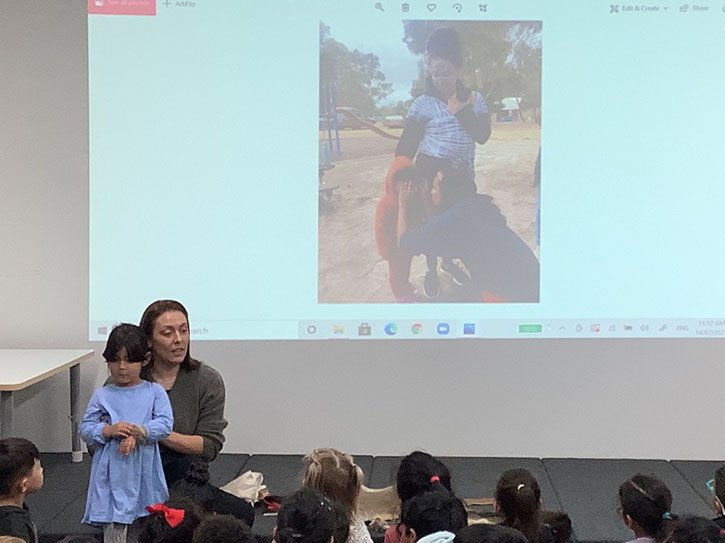 Ms. Hayley also brought a small jar of "red Ochre". It is clay from the Earth and can be found in many different colors all over Australia.
It is used to paint the faces of the Aboriginal people for ceremonies and special occasions. Ochre is sourced from the clan's land, and it is prepared by mixing it with water/spit to make paint. This paint is then used for art and body paint for both celebrations and mourning.
Ms. Hayley let Maeve show her beautiful bracelet made out of Possum skin and her hand burnt clapsticks that are used to make music and noise for the ceremony, song, dance, and protests.
We all added new words to our vocabulary and learned basic words in the Gunditjmara language.
Gunditjmara – (pronounced Goon-ditch-a-mara)
Hello – Ngata (pronounced na-ta)
Goodbye – Wurruk (pronounced woo-dook)
My name is … – Ngathoo-ngat leenyoong … (pronounced na-too-nat lin-yoong)
Other Gunditjmara language words useful to our session are:
Possum – Koorramook (pronounced koo-ra-mook)
Kangaroo – Koorrayn (pronounced koo-ra-dan)
Land – Mirring (pronounced mear-ding)
During the Q&A session, Ms. Hayley shared few very interesting stories about her clan and traditions of Aboriginal and Torres Strait Islander peoples.
We felt very happy to learn that she along with her relatives is working on creating a dictionary on the words in the Aboriginal language. We are looking forward to this pot of knowledge, tradition, and culture.
We, the whole family of Hoppers Crossing Montessori Centre are grateful to Ms. Hayley for sharing her culture and stories with all of us.

Montessori Program at Hoppers Crossing
At Hoppers Crossing Montessori Centre, we believe every child deserves the highest quality program and our goal is to help in achieving this.
To know more about our program, schedule your centre tour today, or give us a call at (03) 8742 2349.
We look forward to meeting you!
We are located at 483 Sayers Road, Hoppers Crossing 3029
Hoppers Crossing Montessori Centre serves the local communities in Tarneit, Truganina, Werribee, Werribee South, Williams Landing & Wyndham Vale.