Why should you choose a Montessori Childcare for your child?
Well this is a crucial question, as most parents spend endless time finding a childcare just right for their child. Here are the reasons for choosing a Montessori Centre for your child.
Montessori Childcare offers a prepared environment for your child.
This means that it offers educational materials and exercises, and experienced teachers who prepare this environment just for your child.
The environment is kept as ordered, appealing and harmonious as possible. Children's physical activity and movement is encouraged rather than repressed, but in ways that foster social and intellectual development, a sense of security and accomplishment, and a sense of community.
The Montessori environment consists of six components: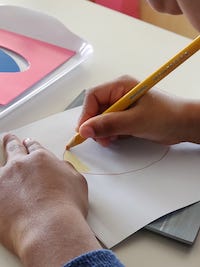 Firstly, it allows freedom. Freedom is essential for the child to express himself.

It helps to allow the child to gain confidence to explore the environment, consequently leading him to become independent. Freedom and independence go hand in hand.

Secondly, just like the universe, structure and order are required to be able to understand and confidently process the environment.

The child knows where to find the materials and work upwards according to the degree of complexity. No-one has the right to disturb and interfere with his work.

Thirdly, the equipment in the Classroom is geared with resources that help the child to be grounded to the real world.

There is emphasis on 'Practical Life' and simultaneously opportunities for the child to stay connected to Nature. This is necessary for the physical and mental development of the child.

Fourthly, the Montessori environment is beautiful, and encourages a positive stimulation. Here beauty is associated with simplicity and a well-planned exhibition in Harmony with Nature.

Fifthly, the most talked about feature of a Montessori setting, is the material used. The Montessori teaching method requires the use of educative materials.

The materials are scientifically based and are designed to prepare the child indirectly for future learning. They are an amalgamation of a progression from the simplest to complexity learning.

Lastly, the Montessori approach aids the development of community life. The children learn to build relationships with their peers and the environment.

These children learn to become independent individuals and have respectful relationships with each other.

They learn to be responsible for each other and are prepared for the future commitments towards the community.
As a parent would you not want to choose such an optimistic learning approach to life for your child?
What a Montessori Childcare has to offer is 'A beautiful beginning for your child!' with strong foundation.
If you would like to know more, Schedule your appointment online today, or give us a call at (03) 8742 2349. We look forward to meeting you!
We are located at 483 Sayers Road, Hoppers Crossing 3029
by Deepika Singh (Room Leader & German Teacher)